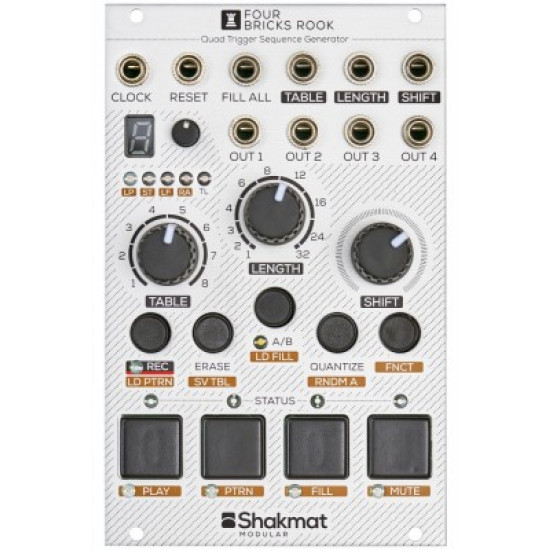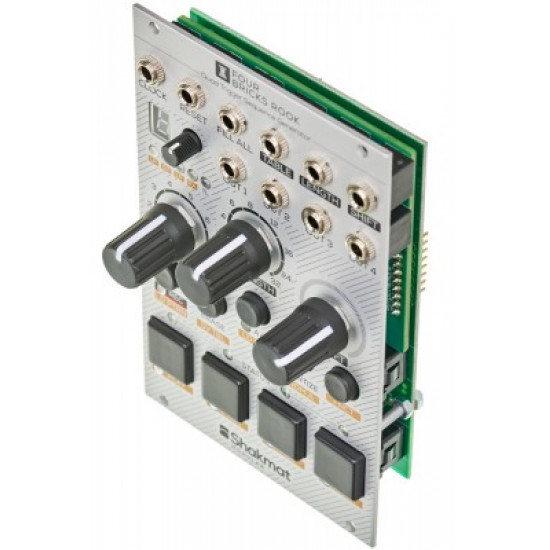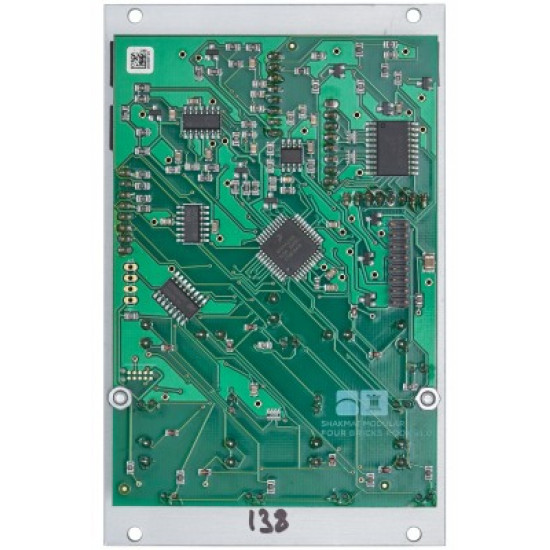 Pre-Order



Shakmat Modular Four Bricks Rook
Stock:

Pre-Order

Model:

99466

Shakmat Modular
A treat for finger drummers – Four Bricks Rook is a trigger sequencer especially designed for programming drum patterns in real-time. The module features four tracks with up to 32 steps. Elektron-style push-buttons are used as drum pads. – Very comfortable. Rhythms can be saved and varied in many ways. – A fun live tool!
DETAILS
Four Bricks Rook offers four trigger tracks with a length of up to 32 steps. Note events are programmed in real-time using comfortably playable push buttons. The trigger length can be varied. For straightening the timing of tracks, there is a quantizer. Alternatively, use the delete function and start over. The number of steps can be readjusted at any time using the Length potentiometer. – This control is also handy for fast rhythm variations. The start point of a sequence can be moved via the Shift knob. Side effect: If you have programmed a pattern with 32 steps and reduce the length to lets say eight steps, it is possible to move back and forth between different parts of a sequence via the Shift potentiometer.
128 rhythms can be stored in the Four Bricks Rook as so-called tables. For the pattern currently in creation, there is a separate, volatile memory with A/B variation. Besides the knobs already mentioned, table selection, sequence length and shift parameter also come equipped with CV inputs. The connectors process voltages in the range of -5 V to +5 V. For controlling the sequencer, there are clock and reset inputs.
Patterns can be remixed using the fill mode. Here, the module activates tracks as long as the corresponding buttons are pressed. These actions can be recorded. – A sequence for controlling the sequence, so to speak. The mute mode allows users to quickly switch tracks on and off. A random generator allows musicians to fill unused steps in loose succession with triggers to create arbitrary variations or entire random patterns.
CONNECTORS
Clock, Reset and Fill All inputs
Table, Length and Shift CV inputs
One trigger output per channel
DIMENSIONS
3U Eurorack module, 16 HP wide, 26 mm in depth
Power consumption: 20 mA at +12 V, 30 mA at +5 V and 20 mA at -12 V