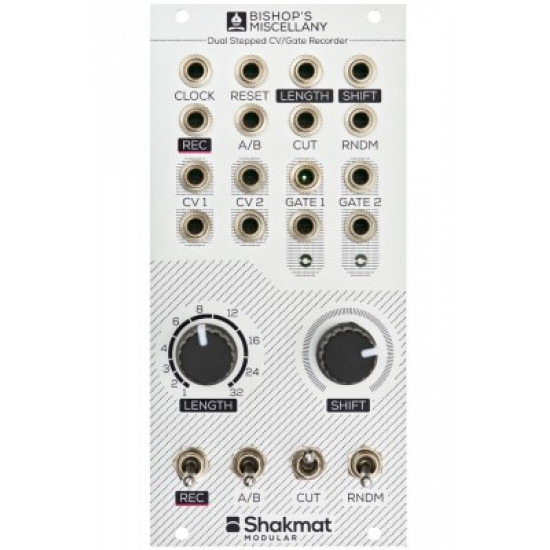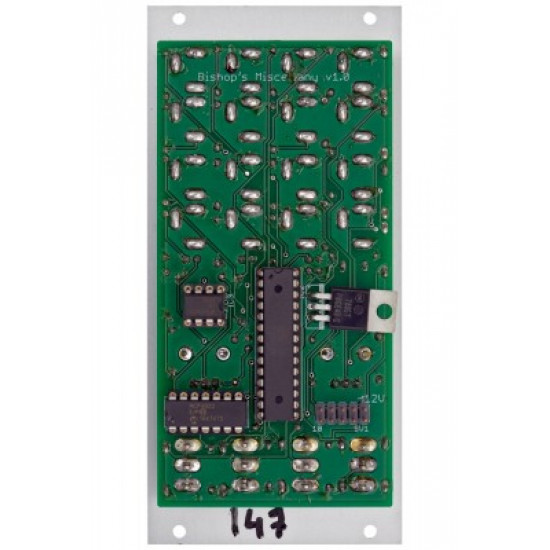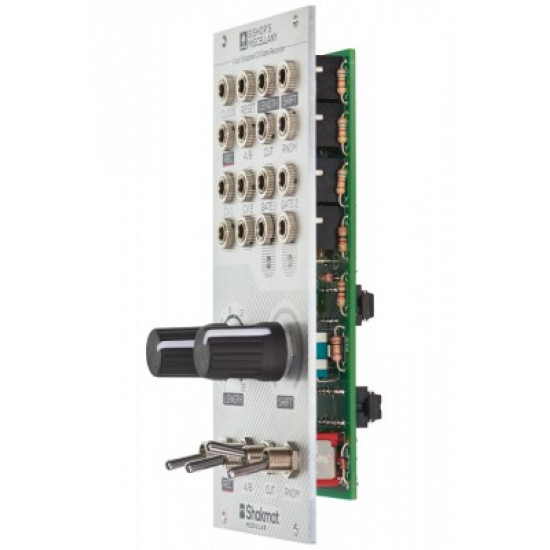 Shakmat Modular Bishop's Michellany
Stock:

In Stock

Model:

99462

Shakmat Modular
Briliant and sophisticated dual stepped CV/Gate recorder! The recording of simultaneously two CVs and two gates is done in sync to an external clock and can be cut in up to 32 parts which can be addressed. Two variations can be recorded and the module is entirely voltage controlled. It's an ideal CV recorder for live use and jam sessions when working with plenty of controllers.
The Bishop's Miscellany can record two control voltages and two gates at the same time. The recording is divided in 32 equal parts and can be shortened with the LENGTH control while playback. Example: if the loop is shortened to 4 steps, the original loop is divided into 8 segments. The SHIFT function selects one of the 8 segments and plays it back. Both parameters can be voltage controlled. This way you can create interesting variations of the recording and due to the clock everything stays in sync.
Reset will put the sequencer back to it's first step.
Switch functions:
REC alternates between recording and playback
A/B allows recording a second sequence
When CUT is activated Gate1 output will generate gated clock impulses instead of gate signals.
OPEN adds randomness - in play mode the segments are selected randomly. In REC mode the module records internal random values instead of the CV/gate signals.
The functions of all four switches REC, A/B, CUT and OPEN can be activated with gates at the according input sockets as well.
Because of the synchronisation to a clock it makes sense to use the module in jam sessions of live, no matter if a CV keyboard is used or joysticks, manual gate generators, pressure sensors or, like in the videos Nchunks or Lightstrip/Lightplane modules by Soundmachines. Modulations and melodies can be recorded and messed around very easily.
CONNECTORS
clock input, reset input, CV inputs for length and shift
gate inputs for record, A/B switching, cut mode, random
record/playback: one input and output each for CV1, CV2, Gate1 and Gate 2
DIMENSIONS
3U Eurorack module, 12HP wide, 25mm deep