Arturia Drumbrute
---
Κατασκευαστής:

Arturia

Κωδικός Προϊόντος:

11559

Διαθεσιμότητα:

1
---
---
Hit with your Instinct, Beat with your Heart
Workflow on overdrive
Every feature and detail in DrumBrute has been designed to amplify your creative flow. Producing? DrumBrute makes
shaping your sound and building your rhythmic patterns a breeze. Performing? DrumBrute gives you massive
connectivity and vital control. Every function is immediately accessible from the front panel.
No dropdown menu, no waste of time.
More playing, less planning
Let's take a closer look at what DrumBrute has to offer...
1. 17 Pure analog drum sounds
All analog, all the time. Two flavors of kick drums, wide-ranging snare and clap settings, two hi-hats with separate tone and decay controls, and more. The DrumBrute offers a wider sound palette than any other analog drum machine on the market.
2. 64 patterns with up to 64 steps
Easily create your own patterns by using the STEP and ACCENT buttons or play them in real-time from the pads. The looper lets you instantly modify your beat and create real-time pattern effects, making this the perfect performance drum machine.
3. 16 Songs
Make your own song by chaining up to sixteen patterns.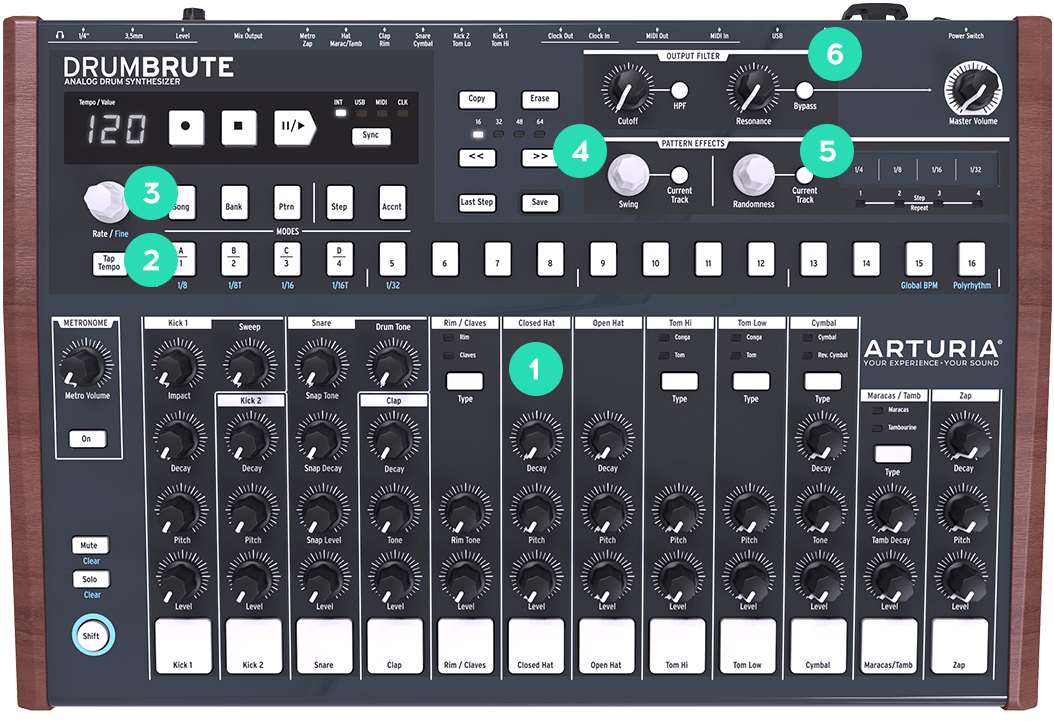 4. Swing
Swing can be global or per drum. This gives your music a feel and groove that will light up the dance floors.
5. Randomness
Randomness can be applied to all instruments globally or to individual tracks. This ranges from adding small variations to change the feel, to huge variations generating crazy, random patterns for more experimental music.
6. Output filter
The Steiner-Parker filter on the output allows you to create interesting sweeps and do on-the-fly tricks like dropping out the bass and emphasizing the highs, ready to kick in the low end at a moment's notice.
7. Sync to the world
DrumBrute can sync to external MIDI devices, vintage sequencers using DIN sync, modular synths with 1PPS clock and to a computer via USB. The DrumBrute is made to be the rhythm center of your production setup.
8. Headphone outputs
3.5mm and 1/4" outputs allow you direct connection with any kind of headphone.
9. Individual outputs
You can listen to and mix all your drums via the MIX output or you can remove them from the mix by connecting to the individual outs. This allows for external processing of each sound.

10. Connectivity
With USB, MIDI, and our trademark clock & DIN sync I/O, you can connect to almost any device on the market today.
11. Power input
12V DC input powers the amazing sound of this drum machine. The strain-relief T-bar will prevent your DrumBrute's
power from accidentally disconnecting Product Description for the Arturia Drum Brute
The sound DNA come from Arturia's other Brute instruments – so expect edgy sounds and, naturally, another Steiner-Parker filter.
Now, the fact that it's "analog" I'm sure will mean fodder on forums for people to bash certain recent digital offerings. But that's of course not the point. It's a matter of whether an instrument sounds good, and whether you get the kind of control over the sound that makes it fun to play. And on a drum machine, it's also increasingly whether sequencing and other production features make a satisfying package.
I'd like to bite my tongue, but of course I have to compare to the TR-09 from Roland. Again, those forum kids are likely to complain that the TR-09 is digital – but that's not really the issue, as the thing sounds terrific (and it sounds like a 909, which this won't).
But what's blatantly obvious looking at the DrumBrute is that it's made in 2016. It's got pads and performance features we've come to expect (since even looking back to the 1980s, we've all seen MPCs). It has more hands-on controls of the sounds – and presumably a greater sonic range, for anyone bored with the 909.
Here's the thing. I don't think the TR-09 is competition for the DrumBrute, and I don't think the DrumBrute is competition for the TR-09. People who want 909 sounds
will still turn to the TR-09. And even though the TR-09 does far less, to some, that's going to be a selling point – it's a simpler instrument dedicated to doing one thing that a lot of people want. On the other hand, for people looking to get as much
bang for the buck as they can, the DrumBrute is going to be naturally appealing, because it does so much.
The real competition for the DrumBrute to me is stuff like the MFB instruments – and devices costing a lot more.
And I think it's incredible what Arturia have done for this market, not only making analog instruments affordable,
but connected ones – with onboard CV and with lots of controls.
And most importantly, the DrumBrute isn't a reissue of anything, or a clone of anything. It's at last a serious new
entry for entry-level drum machines. And that means it's worth forming an opinion about.
Features
17 instruments: two kicks, snare, clap, open & closed

hats, high & low toms and conga, maracas, rimshot, clave, tambourine,

zap, cymbal, and (interesting) a dedicated reverse cymbal. And each of those has loads of parameters onboard, as well.

Two-mode Steiner-Parker filter on the main out.

64 steps per sequence, up to 64 sequences, live programming.

Swing, Randomness, Step Repeat, Roller, Looper.

Lots of connectivity/sync: MIDI, Clock, 1PPS, 2PPQ, DIN24, and DIN48, for connecting to anything, basically analog or digital, vintage or new, modular or desktop.



Σχετικά Προϊόντα
---